Description
Experience the power of music with the HTA100 hybrid tube amplifier. With 100 watts of output power and amber-toned preamp tubes, this amplifier provides a rich and warm sound that will elevate your music experience. You can connect your favorite devices with multiple inputs such as Bluetooth, Coaxial and Optical Digital inputs, Line-in, and Phono RCA inputs that come with a preamp and ground hookup for turntables. The built-in tone knobs allow you to customize the sound to your liking. The amplifier also features backlit VU meters, adding to its vintage charm. Get ready to indulge in the classic sound of a tube amplifier with modern features.
Key Features
100 watt Class A/B amplifier with amber-toned preamp tubes for a warm sound
Sub Out to connect external subwoofers for added low-end
Built-in USB DAC for direct connection to computers
Conveniently placed headphone output for private listening
Bass/Treble tone knobs to customize output
Bluetooth 5.0 allows you to stream your favorite music from a phone or tablet
Phono RCA inputs with a built- in preamp and ground hookup for turntables
Dayton Audio HTA100 Integrated Stereo Hybrid Tube Amplifier 100 Watts

Dayton Audio HTA100 Hybrid Tube Amplifier
The perfect solution to bring the rich sound of a tube amplifier to your home audio setup; the innovative design of the HTA100 combines the best of both worlds – the classic sound of vintage tube-style amplifiers and the modern convenience of a solid-state amplifier. This amplifier offers great value for money, so you can get the classic Hi-Fi sound you've been dreaming of, without breaking the bank.
Steve Gutenburg Audiophiliac Reviews the HTA100!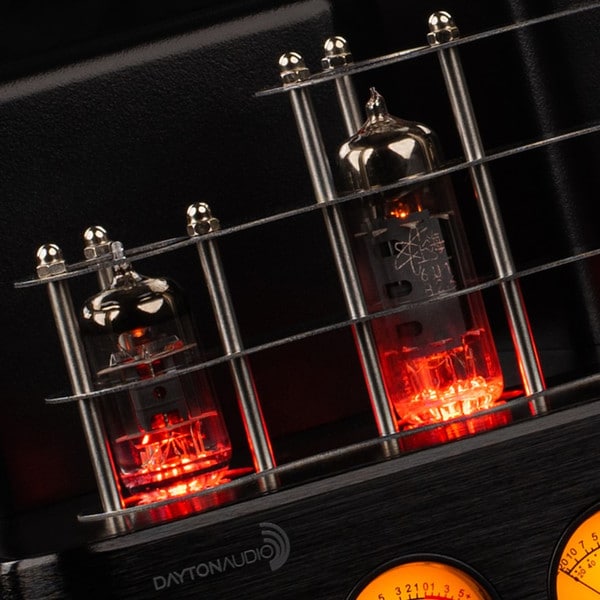 A Contemporary Classic
Debates may rage between whether solid-state or tube amplifiers produce a better listening experience; however, Dayton Audio solves the debate. By harnessing the best qualities of both, Dayton Audio's HTA100 hybrid tube amplifier utilizes the classic design of a class A/B amp topology while employing vacuum tubes in the preamp circuit. The tubes' subtle character and warmth create a delightful homage to the classic valve amplifiers of the past.
Flexibility & Power
With an RMS output power rating of 65 watts per channel at 4 ohms, the HTA100 packs a serious punch perfect for almost any home audio listening system. The added convenience of Bluetooth 5.0 ensures that your wireless streaming has the best possible quality and functionality.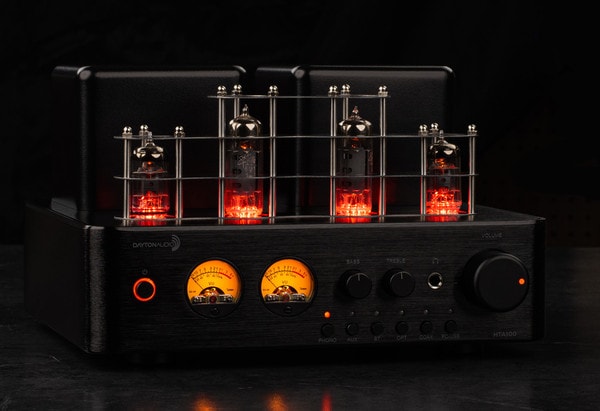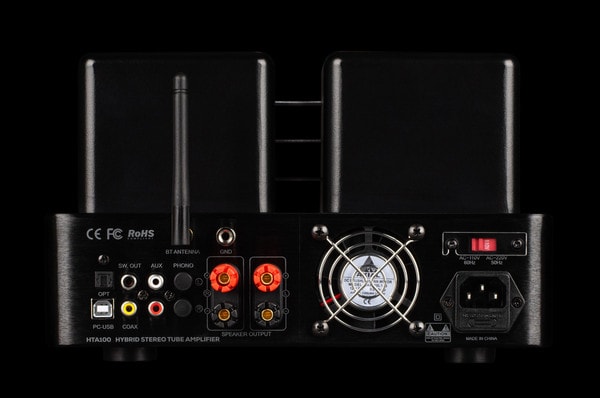 Connected Versatility
Rear-mounted analog and digital inputs allows more permanent connections to larger input sources. Complete with a dedicated phono input, USB DAC, and a subwoofer output, the HTA100 allows you to integrate all your equipment to enjoy the classic sound of tube equipment.
Homage to the Classics
Classic front panel VU meters on the HTA100 perfectly compliment the modern, sleek, brushed aluminum housing. Exposed tubes only add to the modernized vintage aesthetic of the HTA100. A large volume knob, bass and treble controls, and input selection on the front panel gives you access to the features you need to find your perfect sound.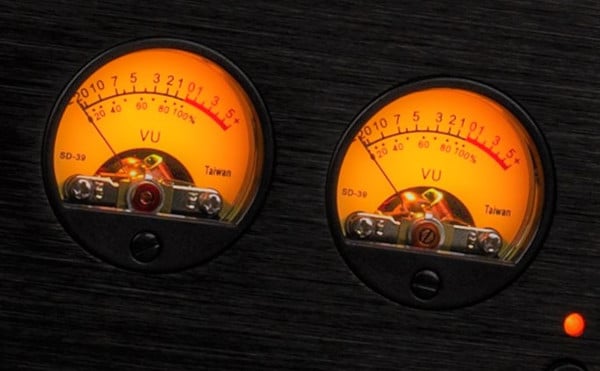 All Backed By A 5-Year Warranty
We stand behind our products and our warranty is a demonstration of our commitment to quality and reliability.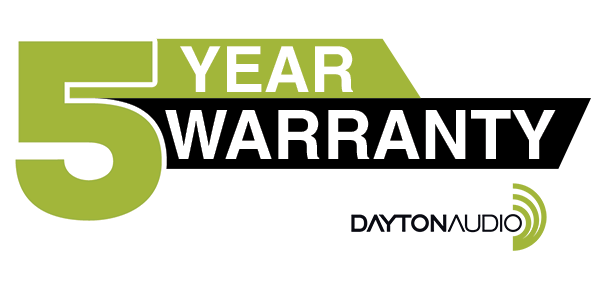 Power output: 65 WPC RMS @ 4 ohms
THD: <0.5% @ 65 WPC
Minimum speaker impedance: 4 ohms
SNR: 75 dB
Frequency response: 15-20,000 Hz
Sub output: Full-Range pre-amplifier output
Preamplifier Tubes: 6F2 x 2, 6U1 x 2
Bluetooth: Version 5
Supports Bluetooth codecs: SBC and AAC
Digital audio sample rate: Up to 16-bit/48kHz
Power: 110/220 VAC, 50/60 Hz Standard IEC Connection
Fuse Rating (120v): 5x20mm 5AL
Dimensions: 8.5" x 12.5" x 13.5"