Description
The Dayton Audio DTA Pro provides a rich feature set including Bluetooth, USB DAC, and even a wireless remote control. With 50 watts per channel at 4 ohms, the DTA-Pro provides enough power to run even the most demanding speakers. High efficiency paired with low THD offers up an impeccably clean, uncolored audio experience.
We stand behind our products and our warranty is a demonstration of our commitment to quality and reliability.
Key Features
Powerful remote controlled amplifier and DAC all in a small package
Several input options: Bluetooth, 3.5 mm, coaxial, optical, and USB
Wireless remote controls source input, EQ, and volume
High speed 192 kHz/24-bit DAC sampling rate
With a Dayton Audio 5 year warranty, it's more than a guarantee, it's a promise

Dayton Audio DTA-PRO 100W Class D Bluetooth Amplifier with USB DAC
Rediscover your favorite music with the DTA-PRO. This all-in-one amplifier starts with a refined, brushed aluminum case and fills it chock full of features. This powerful 50 watt per channel amplifier offers clean and precise sound with a number of convenient input options. For convenience and usability the DTA-PRO comes equipped with Bluetooth 4.2 with aptX. For the very best in audio quality the DTA-PRO offers an optical / coaxial input capable of 192 kHz/24-bit sampling rate.
Designed for Desktops
Its compact size makes it perfect for tight locations where space is at a premium, and desktop-centric features such as the high-quality USB DAC integrate perfectly into your workflow for effortless enjoyment. Expand your reach with the included IR remote to change inputs, adjust volume, and even customize the built in equalizer!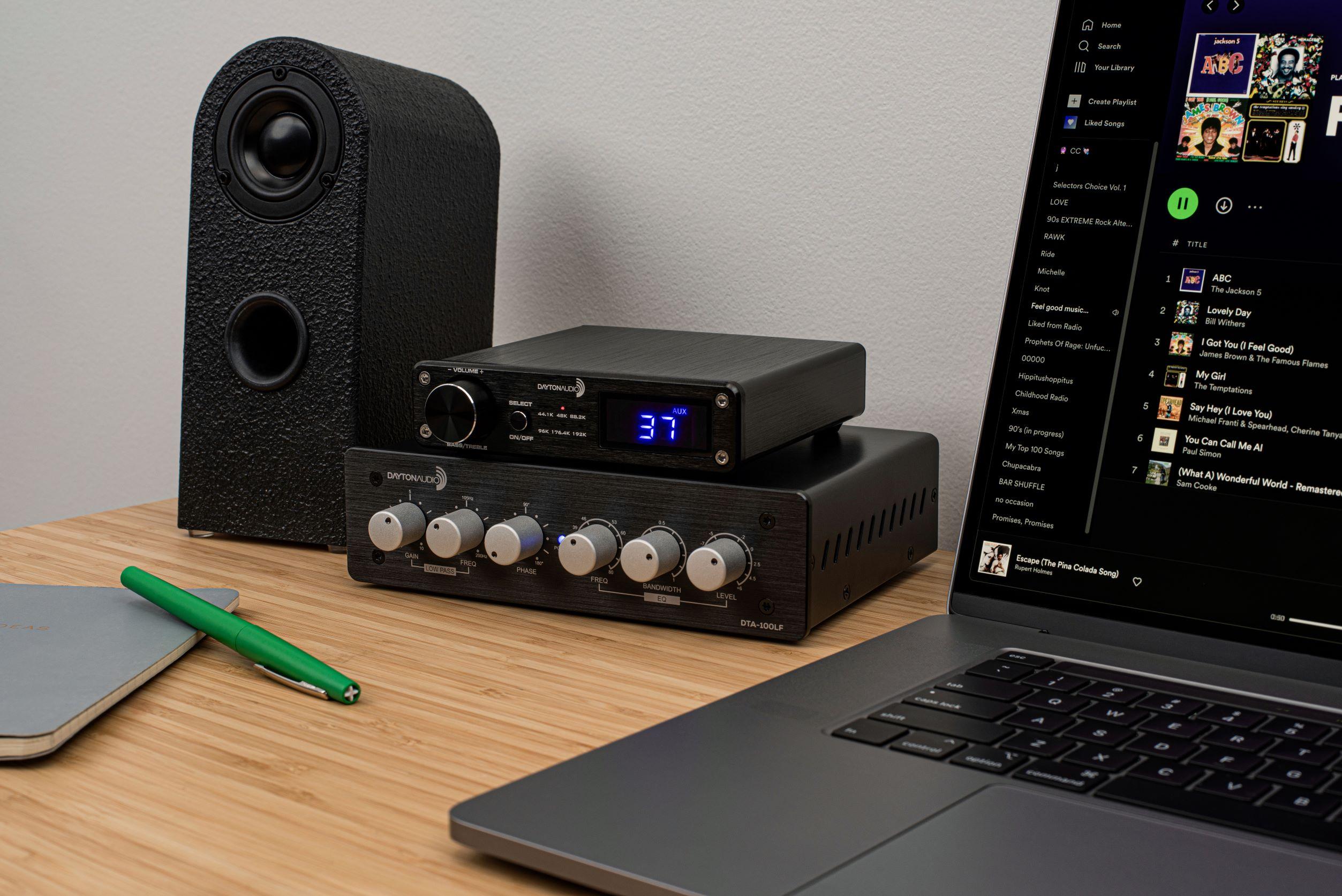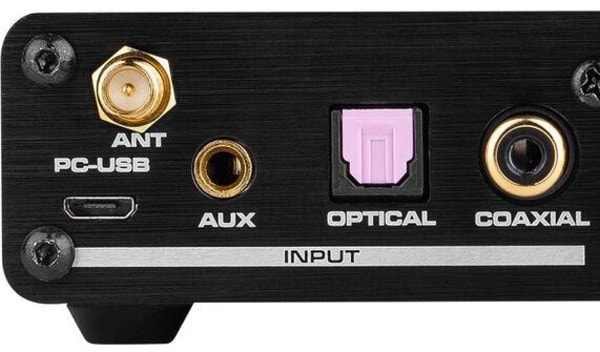 The Ins
The DTA-Pro features a full compliment of digital and analog inputs, including high-quality optical/coaxial digital inputs and a USB DAC with performance up to 96kHz/24-Bits. Bluetooth 4.2 with aptX adds high-quality audio at its most convenient.
The Outs
Also on the rear are clearly marked outputs for the left and right speakers and a subwoofer. The mini binding posts easily accept standard banana plugs, spade connectors, ring connectors and bare wire connections for a high-quality connection to any speaker you have!
The DTA-PRO also offers a powerful line level output for 
Full Specifications:
Maximum Output Power: 2 x 50 watts @ 4 ohms
THD+N: 0.09%
Frequency Response: 20Hz - 20kHz +/- 1.5dB
SNR: -107dB
Input Sensitivity: 250mV
Inputs: USB, Digital Optical, Digital Coaxial, Stereo 3.5mm, Bluetooth
Sub Out Voltage: 3V
Sample Rate: 192 kHz/24-bit (coaxial and optical), 96 kHz/24-bit (USB)
Power Input Voltage Range: 12-24 VDC
Dimensions (W x H x D): 1.2" H x 5.2" W x 5" D
Weight: 2.9 lbs.
Please Note: The included power supply is capable of driving this amp at 2 x 40 watts per channel. To realize the full potential of this amp (>50 watts per channel), we recommend a 24V 5A power supply that is capable of producing 120 watts of total output.