Description
The Dayton Audio DAX66 true matrix audio system delivers an extensive list of features for professional and residential whole house audio installations. Play music in up to 18 zones from CD, DVD, satellite or cable box, PC, or personal audio devices using analog or Toslink input.
Key Features
Six source inputs, six zone outputs; expandable to 18 zones
System controlled by IR remote, keypad, or automation system via RS232 interface
Class D amplifier produces 25 watts per channel at 8 ohms x 12 channels
Built-in IR repeater for control of source inputs from any zone; compatible with 12V IR components
Pre-amp outputs enable zone expansion and linking of more powerful amplifiers
12V trigger outputs can activate a connected amplifier or other system device
The DAX66 comes with a 5 year warranty, more than twice as long as other companies!
Control Freaks, Please Sign In
The DAX66 from Dayton Audio is an affordable, full-featured, six-source, six-zone distributed audio system. Enjoy music distributed throughout your home, and control it with convenient in-wall keypads or wireless remote control.
Features of the DAX66: • 12V trigger output assigned to each zone • IR extender output assigned to each zone • IR ports are compatible with 12V IR emitters • Source 1 PA over-ride • master mute • AGC on/off • RS-232 bi-directional interface.
Total Connectivity, Both Virtual and Hardwired
A DAX66 true matrix system allows a listener in any zone to select from any of the six connected source devices. Four stereo RCA inputs connect any audio or audio/video device like a radio tuner, CD player, Blu-ray DVD player, or satellite/cable TV receiver. Two stereo 3.5 mm jacks are available to connect a personal audio device or PC. Input six is a shared connection that provides a connection for either a Toslink optical cable or a 3.5 mm stereo audio cable.
Uses Low-Cost, Readily Available, Easily Installed Wire
Installation is achieved by running speaker wire and a single Cat 5e/6 cable to each zone. Terminate the Cat 5e/6 to the keypad to control that specific zone. Each zone is controlled independently and can support a stereo or mono speaker setup. Terminate each Cat 5e/6 cable into the keypad hub using the attached Phoenix connectors. A single RJ45 connector goes from the DAX66 to the keypad hub that controls all six keypads and provides a clean look.
Keypad? IR Remote Control? It's All Here!
Each zone is controlled by a dedicated in-wall keypad with back-lit soft-touch buttons and LED display. This keypad changes the source, volume level, bass, and treble. When a zone is not active, the power/select button emits a soft blue glow. A built-in IR receiver performs double duty by providing zone control via a DAXRC remote control, along with control of the source devices by using the built-in IR extender. Six in-wall keypads and wall plates are included.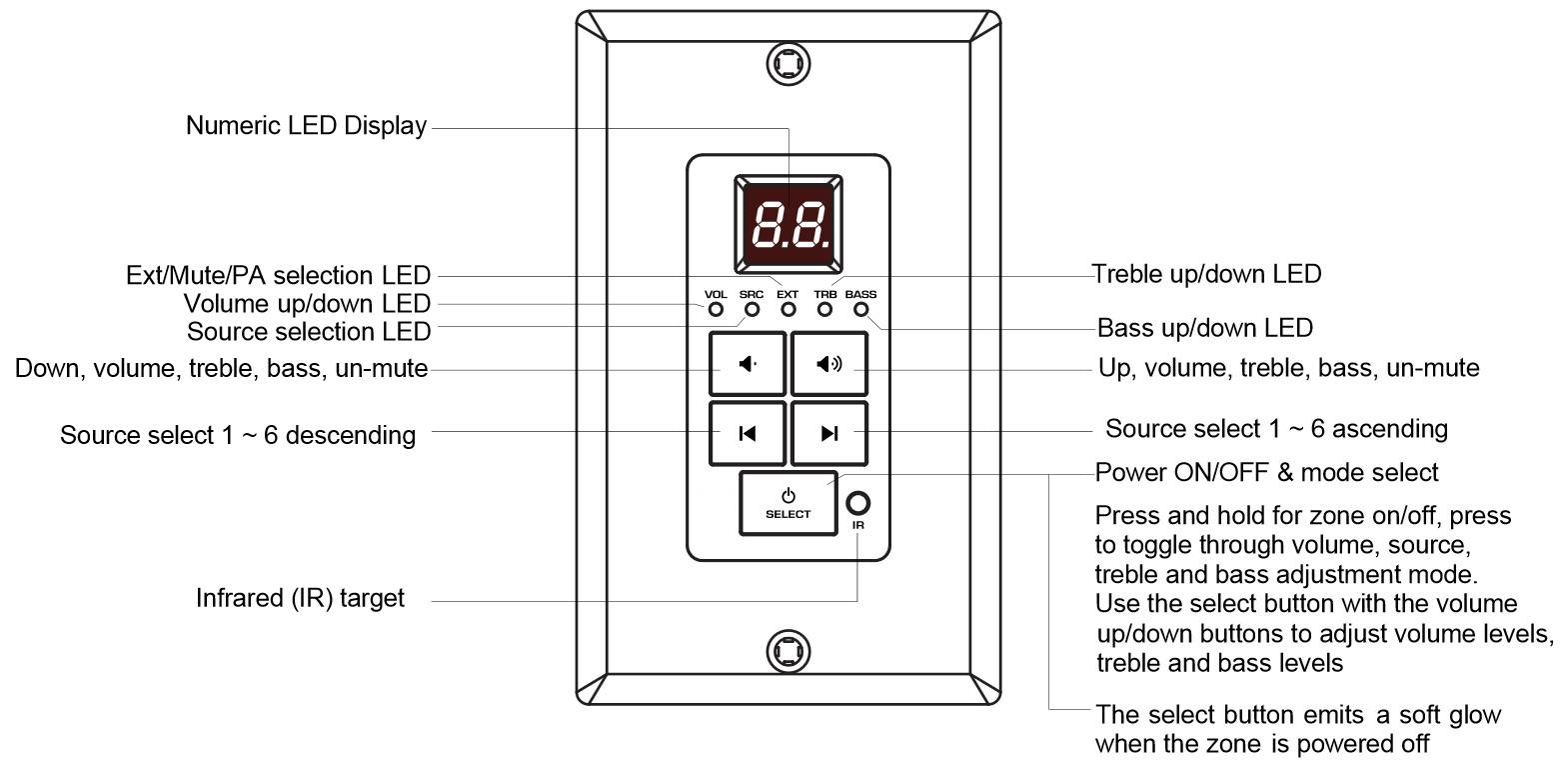 Control is Nothing Without Power
Generous output power and efficiency are achieved by using Class D amplifier circuitry. The DAX66 delivers 25 watts per channel into 8 ohm speakers, 50 watts into 4 ohm speakers, and in bridged mono mode an impressive 100 watts into a single 8 ohm speaker. Since each output is discrete, you can operate some outputs in bridged mono mode and the other outputs in stereo mode simultaneously.
With Simple Expansion, Six Sources Can Feed Eighteen Zones
If you're installing the DAX66 system in a large home or office, you can connect up to two additional systems to the basic system. The additional DAX66 systems share the six source devices and distribute the audio to a maximum of eighteen zones. Each zone has a stereo pre-amp output for connection of higher-power amplifiers to fill larger spaces. Connect a Dayton Audio MA1260 or MA1240a to a pre-amp output to extend a single zone to seven zones. Control the power state of the attached amplifiers by connecting them to the DAX66's trigger outputs.